A sofa is still mostly constructed with manual labor. This is because the assembly line is unable to generate a wide range of goods. The feet, armrests, comfort features, coverings, seat hardness and size are just a few of the options available to consumers today. The consumer frequently gets the option to design his or her own sofa using a configurator. As a result, manufacturing frequently starts only after a specific customer request is made.
The Base Plays a Crucial Role in the Creation of a Sofa
The base is the initial prerequisite for decent upholstered furniture. The sofa's serviceability is significantly influenced by the underframe's material, design and shape. Wood is primarily used to make sofa bases.
Therefore, solid hardwood, such as beech, is used for all load-bearing components of the building. Softwood or wood-based materials like plywood or chipboard are utilized for non-load-bearing elements. The frames are doweled, glued and mortised.
Care is taken during production to make sure that the timber components are well-rounded and smoothed. Thus, chafing and incisions are prevented. Additionally, plastic is being employed more and more in the manufacture of furniture with firm foam being molded into frame pieces or entire frames.
Furniture that has a Purpose: Not Merely for Sitting
It must be taken into account whether the sofa will have extra features even before the base is designed. The quality of the fittings (hinges, pull-out rails, etc.) is especially important if the sofa is going to be used as a guest bed or if a bed foundation is going to be integrated. If the maker saves money here, later use of the functions won't be comfortable. It is crucial to have the functions of a sofa explained to you and tested before purchasing one.
Latest Collection: https://thefurniturevilla.co.uk/7-seater-corner-sofa/
Base with Horizontal Slats
Today, under springing for seat or backrest upholstery also includes horizontally running flat springs in the shapes of waves or spirals in addition to coil springs that stand vertically to the seat. The seat's tensioning straps are now routinely replaced by these under-springs, such as the Nosag springing. Double springing refers to the fusion of bottom springing and the spring core. However, under springs can also be padded with foam.
Framing
First, the frame is built from wood that has been inspected and determined to be free of any flaws. The heavy tension webbing should be able to follow due to the thickness of the wood. If the frame is not sturdy enough, it will not support the weight that the webbing redistributes into it whenever someone sits down. Legs, a seat, and the back or back portions are joined.
The best approach uses neatly cut, perfectly fitted double doweled glue joints that are strengthened with comer bracing that are both bonded and screwed into place. It will be necessary to attach springs and pad each key component of the sofa separately. As a result, they are "framed out" with supporting slats placed in a circle around the seat area.
Springs and Webbing

The foundation for padding is then laid. Webbing is made of jute, an Indian-produced type of burlap. This material is divided into interwoven strips, stretched across the frame and nailed into place. The springs are then fastened to the webbing with flax string. A spring is wrapped around with two lines of twine from back to front after being put into place. After each spring has been painstakingly lashed into place, another set of lines will run side to side on each row of springs. If the "front row" contains heavy-gauge springs these are further secured by a wire.
Repeat the same for the back, paying close attention to the base springs, which are handled similarly to the front row of seat springs. If the back is divided into portions (often three for aesthetic reasons) each segment is tied off separately and the twine ends are fastened to the four-sided frame. Any sides or arms operate in the same way.
Each component will be fully fitted with secured springs before being wrapped in its own burlap covering. To reduce movement, the burlap is cut to the appropriate size for each component, tacked into place initially, and then tightly lashed to the springs. This will stop the springs from eventually wearing through the burlap.
Shop Now : https://thefurniturevilla.co.uk/dino-sofa-uk/
Foam Padding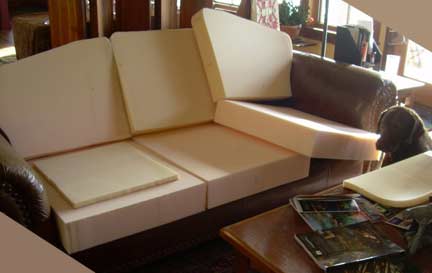 Metal springs are not used in current upholstery processes anymore. The bottom springing, which typically comprises nosag springs, is attached with a multi-layer combination of various foams (wave springs). Various cushioning effects can be achieved because of the foams' different densities and compression hardnesses.
Most commonly utilized are polyurethane (PUR) foams, which also include polyether. The degree of hardness and elasticity is determined by density; the higher the density, the better the foam's dimensional stability.
Molded pieces are frequently utilized when producing sofas in big quantities or with a special high quality. Otherwise, big foam blocks are cut into the necessary forms. Composite foams are created from pressed foam flakes for areas that are subject to high stress, like edges. They are very durable due to their extremely high density.
Mattresses frequently use cold foam technology-produced foams, which are regarded as being very superior. When created under the same circumstances and using the same raw ingredients as regular foam, cold foam (also known as HR foam) has a more uniform hardness distribution.
Cushion Padding

If the upholstery is loosely or even selectively linked to the frame rather than being securely fastened throughout, the cushions are typically filled with foam rods or beads that have been precisely formed. Polyester wadding is also employed. A spring core or foam padding often serves as the cushion upholstery's foundation.
The Cover: Extreme Care is Necessary
The final upholstered sofa is then covered. The fabric or leather portions are cut precisely for this purpose and then put together. The sewing technique used is determined on the model. Precision and straight seams are critical not just for beauty but also for durability. A great deal of experience is required here. Traditional craftsmen and interior decorators who have mastered these techniques for generations are frequently on-site.
A fleece or diol cover is placed between the sofa fabric and the upholstery before the cover is fitted over the final sofa. It acts as a dividing layer that is abrasion-resistant. After that, the sofa's upholstery fabric is pulled over it and properly tensioned, fastened, stapled, or glued to the frame.
Also Check Out: https://thefurniturevilla.co.uk/verona-sofa-bed/
What Padding Should I Use?
In each situation, the choice of upholstery goes beyond only the issue of desired sitting comfort. It also has to do with how the upholstered furniture looks and is shaped. High spring upholstery is typically not an option for low designer couches.
It is highly likely that separate modules in an L- or U-shaped living landscape, consisting, for instance, of a 3-seater, a round corner, and an open end element, may have varied slats due to construction. As a result, the seating experience varies slightly amongst the various modules.
Additional elements like a built-in guest bed or seat or back adjustments might also influence the sofa's upholstery.
Finishing
Finishing touches are then added once the sofa has been turned over and covered at the base with a cambric (dust cover). One of the several skirt options can be installed on the sofa. There are options for welted panel covers on arms. To cover the seat, separate cushions are manufactured. These are often made from a ticking jacket that encases two pads, which in turn frame an inner core of foam. Each one is finished with fabric panels that zip up the back, allowing the case to be taken off and dry cleaned.