Dressing a dining table is the most wonderful way to create an atmosphere for a buffet or party, while showing your friends and guests that you care a lot.
If you are not able to be a good host for many months here, we discuss how to be a good host and how to utilize your space accordingly.
Here we compiled the ultimate ideas for how to create wonderful atmospheres for your wonderful events in which the dining table played a role of center point.
What Should I Put on My Dining Table
When hosting there are always some key point in your hand to manage your event and dress your dining table
The first thing that needs to be considered is flatware and cutlery. Depending on the menu that you are serving, layered up with the necessary size of plates topped by the bowl . If you prefer to serve dinner rather than host family style then this display still works as you can easily pick the dish as you want.
Water glasses or wine glasses is also should be set out in advance too, for restaurant level style, lay out both red and white wine glass on the ending table
On the other hand napkins and water jugs and centerpieces are also arranged.
What Should I do to Protect my Dining Table
If you are investing huge amounts in buying a beautiful dining table then you definitely take some steps to protect it from being damage. The sealants heat protector and table covers are used for prevention purposes.

How to Buy a Dining Table
A dining table is the heart of your home where you spend a lot of your time with your friends and family members. At family get together occasional dinner or fun game night where bonding with friends and cousins over meal is always memorable. You have ton of choice to choose casual style or modern lovely rustic dining table from over collection.
Right Choice
The best dining table is that  suits your budget, is solidly constructed, fits in your space at home and has a style that you love for many years.there are some core factors that need consideration when choosing the best one.
Firstly, be wary of giving into the trend, said christophe pourny, a master of furniture restorer and author of "the furniture bible" who noted that a good table should last at least 5 to 10 years. He said, " Keep it simple and sturdy."
Along with affordability and timeless style, stability and construction of the dining table is also important when selecting the good one. Think about whether it would be comfortable or not when someone sits on it for a long time period.
Using the Measuring Tape
The rule number one is the dining table is according to free space in the dining room and it fits in the dining area but the dining table is a disrespectfully large piece of furniture it also requires a free space around it.
One more important thing that needs to be considered when buying a dining table is its shape. There are a large number of choices on size, shape and extendable option but square and rectangular tables are most common.
How to Decor the Dining Table
Dining table decor ideas are the heart of every dinner party and the meal party where you share happiness with your family members or friends. Dining table decor will brighten up your event no matter if your occasion is small or big,it will give you free space to feel special from day to night.
Dining table decor is more flexible than other dining room decor, but it should be present to make an attractive environment. Dining table decor doesn't mean we need flowers, we need to find object architecture detail and beauty to make a wonderful tablescape.
Laying a dining table is a good opportunity to get creative and think out of the box. If you are confused where to start or and looking for good ideas to make your table next level rock . Here, we give you some stunning inspiration and take the advice of millions of experts.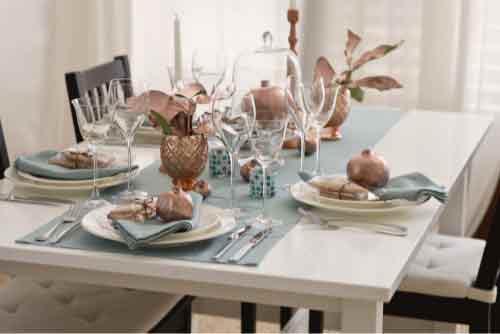 1. Consider a Shape of Table
When choosing the decor ideas firstly you need to consider the shape of the table. The decor approach for the round table is totally different from the decoration of a square or rectangular table. The shape of the dining table depends on the shape of the room. Round table is a wonderful way to create a social space in your dining area.
2. Choose a Statement Vase
What we liked about this trend is that bowls are not only used to hold flowers or put fruits, they become a main part of the dining table. Sometimes it only becomes a table scape of the dining table.
3. Make Special Everyday
Floral arrangements are also a good idea. Floral arrangements are not reserved for any special occasion. If you don't want to go with flower decor then you must try the glassware of different colors and different and new style crockery. You also try a linen of different colors, patterns and prints.
4. Inject Colors in Neutral Space
Another great way to create color in your dining life by using colorful napkins as a table scape.
5. Mix it Up with Fruits and Vegs
Instead of flower arrangement you are using artichoke fruits and vegetables for decor purposes; its unique and bold idea.
How to Decor Dining Table When Not in Use
When the dining table is not in use you can use it for all decoration purposes such as.
Laying out a fine tablecloth
Covering the surface with candles, pillars, vases.
Adding seasonal displays
Showing off houseplant and flowers.